Most of the time we guys face ads on several apps, that is very annoying for every users. Even sometime we face automatic ads showing while using Facebook and other apps too. Well at this time suggest you to download this app Lucky Patcher 7.3.9 apk it will fix almost every problem regarding ads and many more things.
What is Lucky Patcher 7.3.9 Apk?
Lucky Patcher is a tool that's not designed for cracking purposes, but does offer a series of features to manipulate apps that, illegalities aside, that help you to stop ads operations which in specific situations might be of great help.
How to use Lucky Patcher 7.3.9 APK?
First download the app into your mobile Lucky Patcher 7.3.9
and make sure your device has been turned on Unknown Sources. If you're new in this follow this step Go to Setting-Security-Unknown Sources. 
Now go to your folder where you downloaded this app
Tap on it and install
See Also:
Step 1. First of all open Lucky Patcher 7.3.9 app and tap on the app which you want to patch. For example, here we have selected Utorrent app. Click on the Open Menu Of Patches.
Step 2. From there you need to tap on Create Modified APK File
Step 3. Now there tap on Apk rebuilt for InApp and LVL emulation
Step 4. Then Click On Rebuild The App and then wait for few seconds or minutes (Depends on Processor speed)
Step 5. The app will now show if the patch was successfully applied or not. If it shows Success then tap on Go to File.
Step 6. Tap on the file and then select the option Uninstall and Install
Step 7. Now the app will ask you to uninstall the installed app. There you need to tap on OK. In the final step, you need to open the Modified app that you have installed in the previous step and then click on 'Upgrade to Pro'
Step 8. The app will now pop a menu. There you need to leave all the checkboxes as it is and then tap on Yes.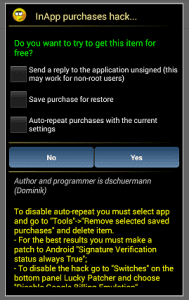 That's it, you are done! Now you can enjoy the premium benefits of uTorrent.
[maxbutton id="1″ url="http://www.mediafire.com/file/olrs3jsr4dhtate/Lucky-Patcher-Official-7.3.9.apk/" text="Download" ]